On May 17, 2018, a group of prominent physician leaders unveiled a sweeping proposal for pharmaceutical reform in the U.S. and Canada. To read the full proposal, visit pnhp.org/pharma. To access our economic analysis and supplemental materials, click here.
---

On May 5, 2016, an esteemed group of physicians unveiled a detailed plan for single-payer health care in the U.S. To read the proposal, please visit pnhp.org/nhi. To read and view media coverage of the proposal, click here. To browse supplemental materials related to the proposal, click here.
---
PNHP advocates fundamental, single-payer reform of our health care financing system. To join PNHP as a physician, health professional, medical student, or activist, visit pnhp.org/join.
---

This fall, PNHP members will gather in San Diego for our annual meeting and leadership training. The theme of this year's meeting is "tearing down barriers to care." Click here to register for the 2018 annual meeting, or visit pnhp.org/meeting for more information.
---
Latest PNHP News
» Dr. McCanne's Quote of the day:
Wed, Oct 17, 2018
» Article of interest:
Sat, Oct 13, 2018
» Article of interest:
Thu, Oct 11, 2018
Aug 2, 2018
Dr. Paul Song on 'Rising Up With Sonali'
Jul 27, 2018
Dr. Eric Naumburg on 'State Circle'
Jun 15, 2018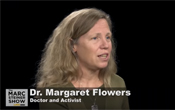 Dr. Margaret Flowers on 'The Real News'
Tweets by @PNHP