Posted on January 24, 2008
Miracle Worker?
By Peter Freyne
7 Days - Vermont's Independent Voice
Inside Track
1/23/08
Surprise, surprise! Rep. Topper McFaun's health-care-reform bill — the one the powers-that-be said was absolutely, positively not coming off the committee-room wall — is going to get two days in the spotlight next week, after all!
H.304, the Vermont Hospital Security Plan, would guarantee hospital coverage for all Vermonters while cutting $60 million in annual spending. Pretty radical stuff, eh?
In what some would call a miraculous reversal of political fortune, H.304 will be on the table before the Senate Committee on Health and Welfare and the House Committee on Health Care on the afternoons of January 29 and January 30. "Expert" witnesses are being scheduled, mostly critics with six-figure salaries, we're told, but supporters of the bill, too.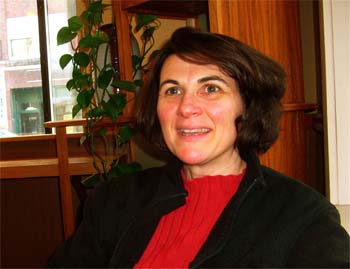 Dr. Deb Richter
| Photo by Peter Freyne
Cool.
Support for the reform legislation has been building outside the Statehouse at public meetings held in small towns around the state in recent months. They've been hosted by Barre Republican McFaun and the "Joan of Arc" pushing health-care reform in the Green Mountains, Dr. Deb Richter.
Richter is admired even by those who don't sing from the same health-care hymnal she does. One is Peter Sterling, executive director of the Vermont Campaign for Health Care Security Education Fund. That's the outfit selling the new stopgap Catamount Health Plan to the state's working uninsured — http://www.catamounthealth.org.
Catamount is the compromise, Jim Douglas-supported plan that offers to sell health insurance to working Vermonters who lack it. Admittedly, Dr. Richter is not a big fan of Catamount; she predicts it will experience a financial collapse within a couple years. But even Sterling concedes, "Beyond a doubt, Deb Richter has done the most in this state to make health-care reform happen. No one can question her credentials and dedication." Dr. Deb, he said, "is so steadfast in her resolve that people feed off that energy."
Dr. Deb "does say Catamount is good for some people," said Sterling, but he admitted, "It just doesn't solve the big problem, and we know that."
Richter, who's been promoting showings of Michael Moore's illuminating health-care flick Sicko around the state, says that a single-payer health-care system like the rest of the civilized modern world is where we will end up . . . eventually. It's just a matter of when, eh? And of how long we can prop up the for-profit health-insurance market and hospital CEOs making $750,000?
The big problem, of course, is that health care in our country costs twice as much as in the rest of the civilized world and isn't as good. Also, people have to shell out $5000 to $10,000 deductibles as well as co-pays. Working people often go without. One can be "covered" by insurance and still be broke.
But, surprise, surprise. H.304 is coming off the committee room wall.
Why is this happening?
"This is happening this week," Dr. Deb told yours truly, "because of public pressure. People realize this is actually a very decent idea and a pretty good deal for the people of Vermont."
Richter, a Montpeculiar resident and Cambridge family practioner, calls it a bill "that would do something for everybody and give them peace of mind while actually costing less."
The Legislative Joint Fiscal Office, she said, ran some numbers and found that, with all of us in the pool together, Vermonters would have to fork out $60 million a year less than what we're currently spending on hospital bills. H.304 also drew more than 150 regular folks to rally at the Statehouse and lobby lawmakers. They plan to return on February 7.
Richter told "Inside Track" she is "pleasantly surprised," but "not shocked" that the legislative health-care committees have reversed course and decided to shine some light on H.304 after all.
"The pent-up desire for something like this is overwhelming," said Richter. "You can feel it everywhere."
Even "behind the scenes" said the Cambridge physician, "if you talk to hospital executives who aren't allowed to be in favor of it, you find out they really are, especially at the smaller hospitals."
This legislation would provide a global budget for the state's hospitals while guaranteeing every Vermonter's hospitalization would be covered, said Dr. Richter.
"This would guarantee the hospital CEOs," she said, that they could pay for the cost of doing business, could pay their staff. "They would not have to worry about chasing the money," said Dr. Deb.
Interesting.
Topper's bill, said Richter, would provide "emergency surgery" to a broken health-care system "and help everybody in the bargain."
But in order to pay for it, "You've got to raise a tax," said Richter, "and that is politically why it's a challenge, and why they've been trying to avoid it like the plague."
Four or five taxes have been suggested, she said, including a 5.5 percent payroll tax and a $220 annual fee on working folks.
But look at the upside, noted Dr. Richter. "It's not an increase in spending [it would be a decrease in hospital spending], and everybody gets the security of hospital coverage. So why wouldn't we do that?" she asked rhetorically.
You know why.
"People advocating for this are not politicians," said Dr. Deb. "They're ordinary Vermonters who are hurting and in need of help, and they need help now. They can't wait until it's the right time in the political world. They just can't."
At the moment, H.304 is not drawing rave reviews from the hospital and insurance execs with the six-figure salaries. Several will testify against the legislation at the hearings next week.
"It's going to take a while for them to warm up to it," Dr. Deb said, but, she predicted, "They'll be begging for it in a few more years. They will!"
But can Vermont really lead the whole nation on health-care reform? Doesn't it have to be a national program?
"We've done it in other areas," said Dr. Deb, citing the abolition of slavery and welfare reform as two examples.
"New ideas are done at the state level all the time. This isn't even a new idea. This is how Medicare started," Richter noted. "They gave everyone over 65 hospital coverage and, ironically enough, they did it because hospitals were having a hard time paying their bills."
Interesting.