Posted on July 9, 2008
Dr. Quentin Young with Sen. Barack Obama


PNHP National Coordinator Dr. Quentin Young with Sen. Barack Obama at Dr. Young's 80th birthday celebration in 2003.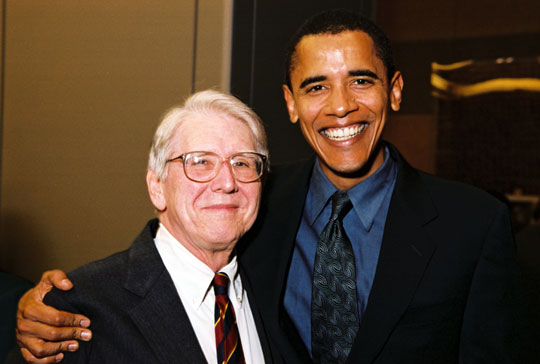 QUENTIN YOUNG, MD, Chicago, (National Coordinator) Dr. Young is a recently retired internist in Chicago, a Clinical Professor of Preventive Medicine and Community Health at the University of Illinois Medical Center and Senior Attending Physician at Michael Reese Hospital. He graduated Northwestern Medical School and did his residency at Cook County Hospital in Chicago. During the 1970s and early 1980s, he served as Chairman of the Department of Internal Medicine at Cook County, where he helped establish the Department of Occupational Medicine. He has also been an American Medical Association member since 1952.
In addition to his distinguished career as a physician, Dr. Young has been a leader in public health policy and medical and social justice issues. In 1998, he had the special distinction of serving as President of the American Public Health Association and in 1997 was inducted as a Master of the American College of Physicians. In 1980, Dr.Young founded the Chicago based Health & Medicine Policy Research Group, of which he is currently Chairman.